Welcome to the world of premium cigars! Or rather, welcome to the family. Navigating all the terminology and trying out all the cigars out there may seem overwhelming at first. Don't worry. On this journey of exploration, you're going to have a lot of fun, and make new friends, we guarantee it! So without further ado, lets get started.  
1. Try out different shapes and sizes √
There are so many styles of cigars out there. Start with the size (also known as vitola) that you're most comfortable with. Take a look at the chart below. While Robusto (5 inches by 50 ring gauge) is somewhat of a standard in the cigar world, a corona, which is 5x46 and smaller in diameter, is a very manageable size and most likely won't be too overwhelming for you. Try out different vitolas, and you'll eventually find what best suits your palette and style. Some  prefer a skinny lancero, others prefer a big fat Gordo. It's all up to you!  
Image courtesy of Mike's Cigar Blog: http://www.mikescigars.com/ 
2.Try out different brands √
While all cigar smokers develop some go-to cigars to a certain degree, it pays off to try new cigars. Cigar manufacturers are constantly coming out with new and wonderful blends packaged in different vitolas. If you stick with one brand, you may be missing out on some great smokes!
3. Get into a facebook cigar group or online forum. √
There are many online communities out there either on facebook or on websites, and they're all very welcoming to new cigar smokers. Try botl.org or Reddit's /r/cigars, and they'll point you in the right direction. It's not only a great way to make new friends, it's also a great way to keep up to date with new releases, deals, and what is hot on the market. 
4. Subscribe to one of the many amazing cigar blogs out there √
There are people that dedicate their lives to bringing you interesting, entertaining, and honest reviews about cigars, and they're a great resource for both novice and aficionado alike. Visit our reviews section to see a list of some of the industry's best reviewers! 
5. Support your local tobacconist √
Especially your local cigar lounge. Hanging out and shooting the breeze in person is one of the best parts about being a cigar lover. You'll get to know the regulars in the shop, and your tobacconist and the staff are founts of cigar knowledge. There'll be regular events where you can meet brand owners and get some of the best deals on premium cigars out there. Not to mention,  a ton of free cigar swag. We live for cigar swag. 
6. Give √
Give and you shall receive. Nowhere is this more true than the cigar community. Giving not only includes sharing your experiences, and encouraging others in their life achievements, but also in the actual sharing of cigars, either in person through organized meetups (called herfs) or through the post. There's nothing more gratifying than sharing one of your favorite sticks with someone that truly appreciates it! Guaranteed the love will come back to you! 
7. Don't Inhale. √
Yeah.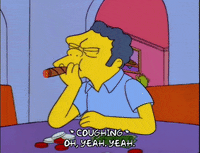 8. Relax √
That's the whole point! 
9. Enjoy yourself, and share this article √
Did we say 8 tips? Oops. Here's another one! Spread the love!